Get Rewarded For Surfing

Welcome to Paranormal Traffic. The fun but professional traffic exchange. Paranormal Traffic provides fast support, fast traffic, and great marketing tools to boost your sites credibility and traffic.
Surf for CTP XP. If your on a CTP Team then you will want to surf as I am giving away XP everyday. The more you surf, the more you'll find.

Paranormal Traffic provides a quick infusion of traffic from its friendly members. They are interested in seeing what you have to offer. Come on inside and get set up. Paranormal Traffic is very easy to use, just add your site, add some credits, and surf. The traffic will start streaming in.
Earn 20% to 50% commissions when someone you refer makes a purchase at Paranormal Traffic. You'll also earn 25% to 40% commissions on OTO's they purchase. This is a great way to make an extra income by simply referring other people to our site.

At Paranormal Traffic you can win prizes during your investigation. The more you surf, the more you can win. Upgrade to the Pro membership and you will be awarded with Random Referrals. Referrals can earn you a commission eveytime they make a purchase.

Paranormal Investigator Levels:
Paranormal Investigator - (100 Monthly Credits)

Paranormal Pro - (1000 Monthly Credits + 1000 Banners + 1000 Text Ads)
Paranormal Pro Annual - Special $20/yr (Same as above)

Take a look at what Paranormal Traffic has to offer:
Dynamic Surf Ratio

Rotators

Trackers

Community Chat

Promo Codes

CTP XP


Super Low Credit Purchases

Higher Commissions

Bonus Downloads - (Very Cool Products)

Surf Contest

Surfer Rewards

Low $10 Payout Request

See what are members are saying: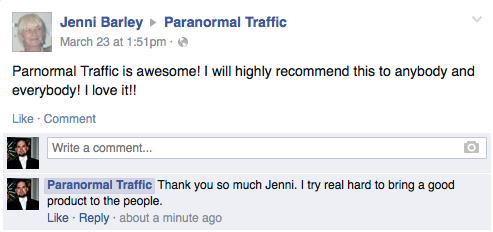 Get the best spot and have your site be the 1st seen by all surfers for just $3 a week. Grab your membership and then go to Buy Credits in your members are and select a week you want your site to be seen 1st.
Shon Jimenez has 15 years of online marketing/advertising experience and 4 years experience running a text ad traffic exchange and will make sure you have a positive experience with Paranormal Traffic.
Paranormal Traffic is on the cutting edge of TE programs, bringing in new members to view your affiliate and splash pages. Endorsed and promoted by some of the biggest names in internet marketing world.
Paranormal Traffic is destined to be a player in the TE world.
Paranormal Traffic offers fast and friendly customer service.
Paranormal Traffic offers real cash and commissions on upgrades and credit purchases.
Traffic exchange advertising is becoming very fast paced and is one of the best promotional tools on the net.
Join now and be a part of a system that allows you to earn both traffic and cash from your promotional efforts.
With our custom built Click and Surf System you earn Traffic every time you visit another member's webpage, Plus you earn credits from your own referral's surfing as well. Each time they surf to earn credits you will automatically earn credits too. The more members you refer, the more credits and commission you earn... plus you'll increase your website traffic.
The result: Free High Quality traffic to your website
Paranormal Traffic

is FREE: You just can't beat the appeal of no-cost online advertising.

Paranormal Traffic

is Viral: Traffic increases automatically and exponentially

Paranormal Traffic

is a money maker: Earn REAL CASH COMMISSIONS when your referrals purchase extra credits or services.

Paranormal Traffic

is Proven: Thousands of members are benefiting from Promoting multiple web pages, Banner advertising.

Paranormal Traffic

is Targeted: You'll only get live, real-time targeted traffic. Real people visiting your site. No fake traffic here.

Downline Builder

: All your signups get to join your programs through your link, helping you to build downlines in other sites. This can be very lucrative, but you have to fill them out.


Powered by LFMTE